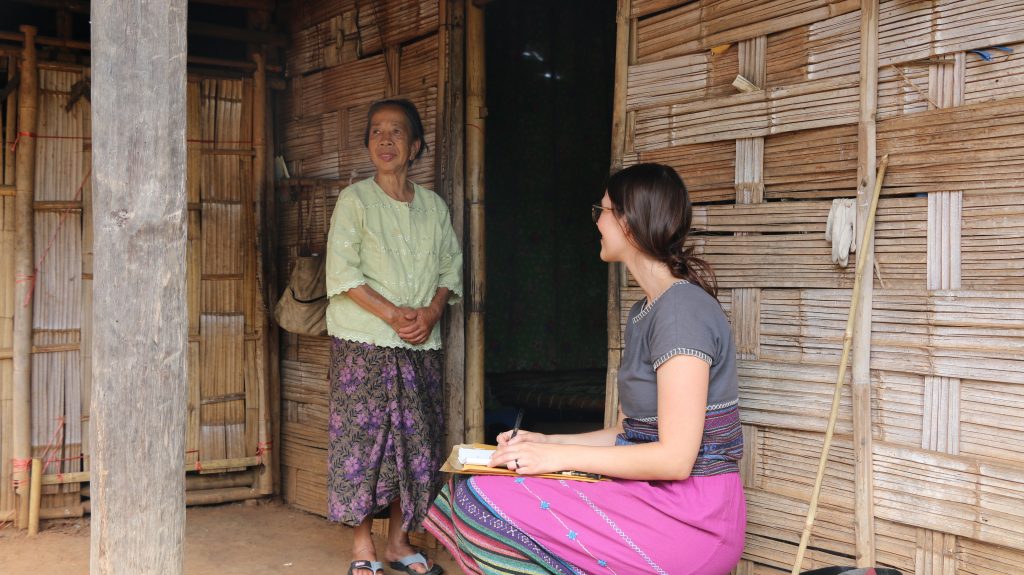 The Migrant Voices Project documents the experience of exile through digital storytelling, collaborative ethnography, participant observation and in-depth interviews. We traveled to the Thai-Myanmar borderlands to record the autoethnographic narratives of migrants who have fled from Myanmar to neighboring Thailand.
Myanmar is currently in the midst of the world's longest ongoing civil war and it is estimated that approximately 3 million Burmese have fled to neighboring countries like Thailand. Many migrants live in one of the "temporary shelter" areas along the Thai-Myanmar border and fear deportation, the looming threat of return as well as the precarious conditions they face as refugees and migrant in the borderlands.
From Dr. Tani Sebro: "While conducting fieldwork in Upland Southeast Asia amongst a group of Burmese refugees called the Tai from 2014-2015, I discovered that the most powerful stories came from the refugee's own re-tellings of their lives. Yet often their stories go unheard in favor of official accounts from governmental, non-governmental and international relief organizations. The purpose of the project is to give voice back to the migrants themselves, to allow them to tell their life stories in order to educate migrant scholars, NGO workers, government agencies and students about the complex lives of migrants."
The Migrant Voices Project received the 2017 Digital Humanities Center grant from the Humanities Center at Miami University and is supervised by Assistant Professor of Global and Intercultural Studies, Dr. Tani Sebro. The project team worked in close collaboration with…
Tani Sebro
Tani Sebro is Assistant Professor of Diaspora Studies, Human Rights, and Transnational Migration in the Department of Global and Intercultural Studies at Miami University, Ohio. She has conducted research along the Thai-Myanmar border since 2012 as a part of an ongoing trans-disciplinary research project on the politics of exile for Tai migrants from the Shan State in Myanmar.
Melissa Pawneshing
Melissa Pawneshing is a member of the Producers Guild of America and currently executive produces digital content in Los Angeles, California. She has producer credits with BBC, Travel Channel, HGTV, TVOne, and YouTube. Before producing professionally, Ms. Pawneshing developed creative for travel mobile-app content in Cambodia and was an Asia-Pacific Leadership Fellow at the East-West Center in Honolulu, Hawaii. Ms. Pawneshing is a long-time friend of Dr. Sebro, who she met through the Anthropology Department at the University of Hawaii at Manoa, and looks forward to collaborating on this meaningful project.
Jing Lungkham
Jing Lungkham worked as a research assistant and translator for this project. She is an entrepreneur, the owner of a social start-up and mother of two. Ms. Lungkham is from the Shan State in Myanmar and is involved in several non-governmental organizations that work towards bringing education and environmentally sustainable livelihoods to migrants from Myanmar.
The Center for Digital Scholarship
The Miami University Libraries Center for Digital Scholarship is both a physical facility and a service of the Libraries.  Their vision is to serve as a collaborative partner with faculty, students, and staff by providing digital library, data repository, multi-media, digitization, scholarly communication, geospatial and data management services so that members of the Miami community can accomplish their research, scholarly, and teaching goals. The CDS team includes Elias Tzoc, Jody Perkins, Eric Johnson, Carla Myers and Lindsey Masters.